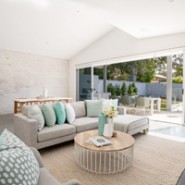 Sutherland Shire Record Sale Torrens Title Duplex
06/01/2016 – Momentum Built is proud to confirm the Record Sale of 19 Holly st Caringbah. The sale price of $1,950,000 was a Sutherland Shire record for a property of its type. Our selection of finishes and attention to detail throughout construction was instrumental in the success of the development with consistent praise provided by interested buyers and viewers of the property throughout the auction campaign.
We would like to thank MSB Design and Highland Property Agents for their assistance through the development.
We look forward to developing many more projects in the future including our second duplex at 12 Wistaria St Dolans Bay being submitted to council in late December 2015. For more information on the Wistaria Development please follow the below link.