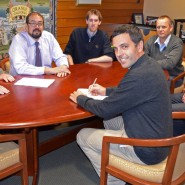 Momentum Built awarded construction of the new Orange Airport
23/09/2013 – Momentum Built has just been awarded the contract for the construction of the new Orange Airport. Project Value $3.3 Mil. More information to follow.
IT will take just two weeks to demolish the Orange Airport terminal, but 12 months to build its $3.3 million replacement.
The director of Sydney firm Momentum Built, Paul Boyd, signed a contract with Orange City Council to build the terminal on Friday.
He hopes to start on-site on October 2 and begin preparations for the demolition from mid-October.
"We're very excited that we've been selected to develop the landmark project," Mr Boyd said.
"We'll take it from what it is and hand over a new building."
Mr Boyd said his firm had done lots of work in country areas, despite being based in Caringbah, and would employ as many local contractors as possible.
"We'll have about 300 to 400 over the course of the project," he said.
The steel structure will be clad with metal and will also feature glass and concrete columns, Mr Boyd said.
The distinctive curved roof will arrive in pieces to be assembled on-site.
"The structural steel is made off-site and it's put together like big Lego," Mr Boyd said.
Five staff from Momentum will be involved with the project from start to finish.
Mr Boyd said working alongside an operational airport had its challenges, but his firm was experienced at building in occupied environments.
"The safety of the users of the temporary terminal is very important," he said.
"It's the same with the airport, you can't have anything blowing onto the apron.